Glamis Castle Dundee Law Tour
This tour consists of 1hr 45mins driving time and comes to 58.8 miles.
It takes you over the beautiful Tay Road Bridge through Dundee. Once you leave Dundee behind the route takes you onto a beautiful back road with some stunning views to Glamis Castle. On your return you follow again a small back road through Meigle and Newtyle to Dundee Law and back to St Andrews.
Glamis Castle has a fascinating and exciting history. The thaneage of Glamis was granted to Sir John Lyon by King Robert II (the first of the Stuart Kings) of Scotland in 1372. Glamis was believed to be a royal hunting lodge at the time of its first grant and it was not until the first part of the 15th century that any part of the present structure was built.
Legends and myths have grown around the castle. King Malcolm II was said to have been murdered here in the 11th century. Lady Janet Douglas, widow of Lord Glamis, was burned at the stake as a witch in 1540 by James V. There is said to be a secret room where a nobleman played cards with the devil himself.
Glamis today looks more like a French Chateau than a medieval fortress, because it was extensively restored in the 17th and 18th centuries. The original tower house remains at the centre of the castle today.
It has, of course, close connections with the present Royal Family, being the childhood home of Her Majesty Queen Elizabeth The Queen Mother (she being the youngest daughter of the 14th Earl), and Her Royal Highness The Princess Margaret was born here in 1930.
It is the setting for Shakespeare's Macbeth and is referred to specifically :- "Glamis thou art" "and yet woulds't wrongly win: thou'dst have great Glamis" It is popularly believed that Duncan was murdered here by Macbeth
The village stands on low lying ground to the south of the River Isla. To its south the southern edge of Strathmore is defined by the gentle slopes of the Sidlaw Hills.
You can also find the Pictish Stones Museum in Meigle
Newtyle is a village in the west of Angus, Scotland. It lies 11 miles to the north of Dundee in the south west of Strathmore, between Hatton Hill and Newtyle (Heather Hill) in the Sidlaws. The village sits on gently sloping ground with a northwest aspect.
This 174 Law (Scottish for hill) overlooks Dundee and the river Tay and is highly recommended at sunset on a sunny day.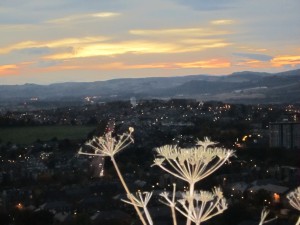 Please feel free to use the link below to submit an inquiry or call 0044 7790 021000 to discuss your requirements