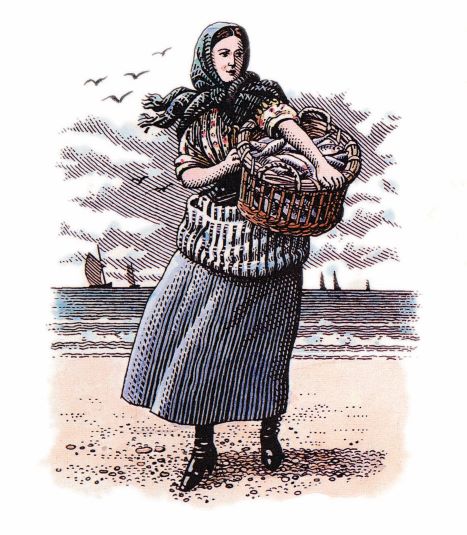 Drive a little – Walk a little – Visit a little – Eat a little
Pre-book a half day tour which will take you from St Andrews along the beautiful East Neuk coastline and visit the historic, pretty villages of Kingsbarns, Crail, Anstruther, Pittenweem, St Monans, Elie and Earlsferry. Our tour offers the opportunity to view the beautiful coastal scenery from our comfortable minibus, and stopover in the main villages for an exploratory walk around accompanied by our friendly and knowledgeable driver/guide. Some of the attractions you can visit include: Kingsbarns Distillery, Crail Harbour (one of the most photographed in Scotland), the Scottish Fisheries Museum (Scotland's National Museum of the Fishing Industry), the world famous Anstruther Fish Bar, The Cocoa Tree, Pittenweem, St Andrews Cheese Farm and Cafe (award-winning artisan cheese made on the premises), historic Kellie Castle and Garden, East Neuk Brewery, St Monans Harbour and Church.
Our relaxed tour provides the opportunity to savour the heritage and coastal beauty of this unique part of Scotland and sample its many delights.
Visit East Neuk Tour
Drive a Little * Walk a Little * Visit a Little * Eat a Little
DAILY TOURS AVAILABLE.
PLEASE PRE-BOOK
00447446112672
We aim to offer daily Visit East Neuk Tours starting from St Andrews
Due to the current Covid-19 restrictions all passengers must pre-book and we can only accept as many as four participants to adhere to social distancing for now.
The price of the tour is £160 for the vehicle and the driver for a duration of 4-5 hours.
Four passengers will pay £40 each (we know this may be a bit pricey but if you book a taxi from St Andrews to St Monans you already pay £35). We are able to offer this tour for six people if they belong to the same family/household/bubble @ £26 per person.
This tour is semi-bespoke and flexible regarding to starting times (we suggest 10 am).
We will list below places which can be part of this tour. You can visit as many as you like but you may decide to for example to travel to Anstruther and if the weather allows to walk to Pittenweem and be picked up from there.
Ideally we hope you visit a few of these picturesque fishing villages, spend some time exploring, perhaps get a bite to eat and enjoy some insights to these lovely places . There is a lot to see: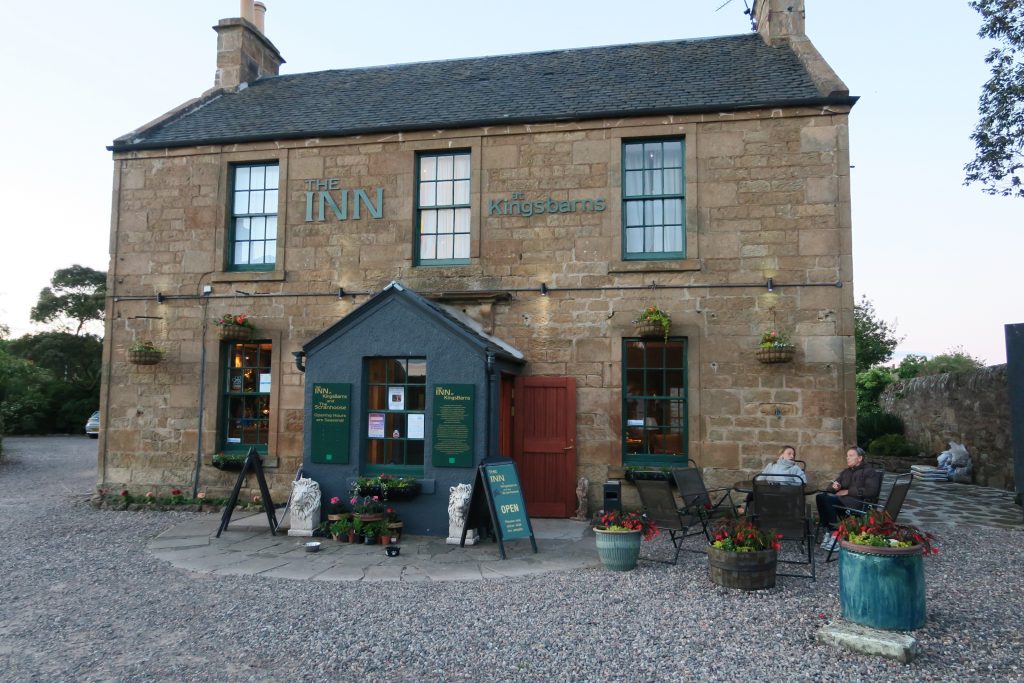 This beautiful village's name was literally the Kings' barn storing the corn before it was transported to Falkland Palace. The village no longer feeds the Royals but does have its own estate with Cambo House which is still owned by the Erskine family. Cambo Gardens Visitors Centre and cafe is run by the charity Cambo Heritage trust. Open daily from 11am-4pm you can walk amongst the stunning fragrance and colours in the walled garden, visit the late blooming North American prairie garden, or visit early in the year to see the National Collection of Snowdrops. There is also a lovely woodland walk which leads you to the coast and Kingsbarns Beach. Pick up a treat in the gift shop or visit the cafe where freshly cooked delights are prepared daily using produce from the edible garden.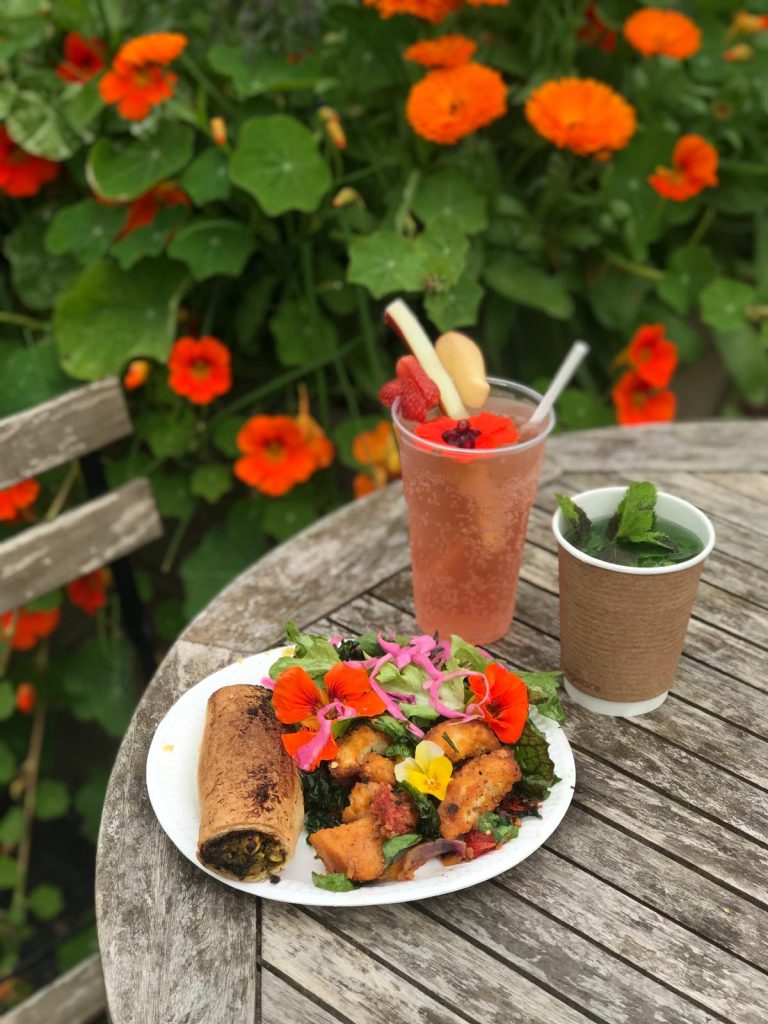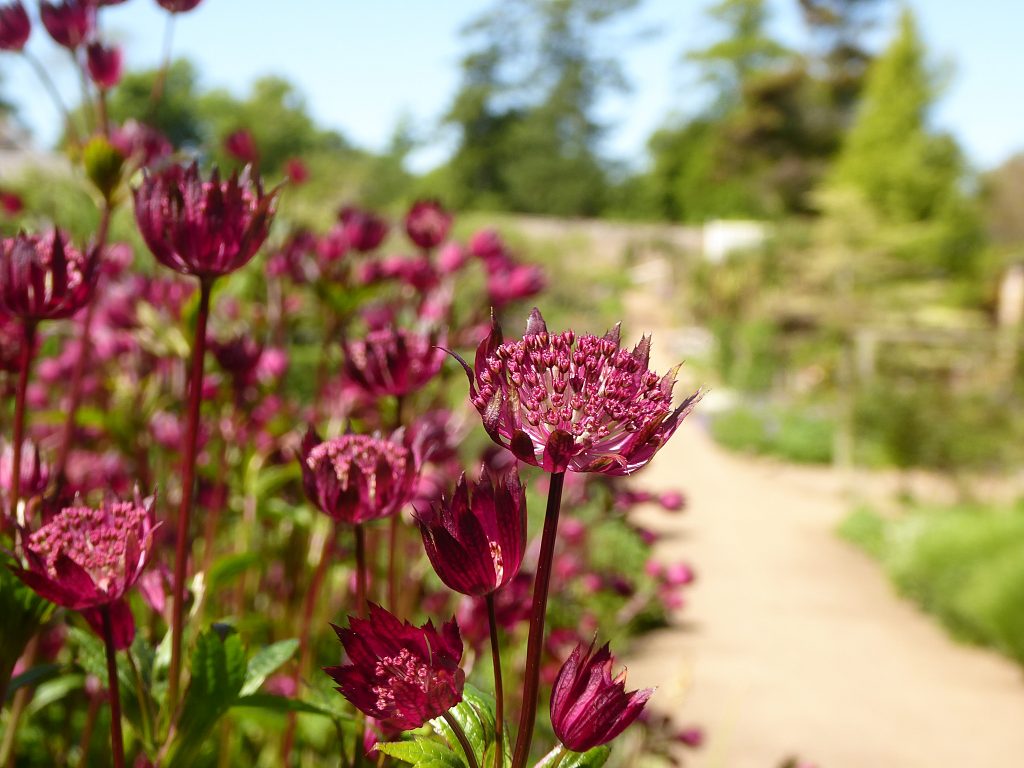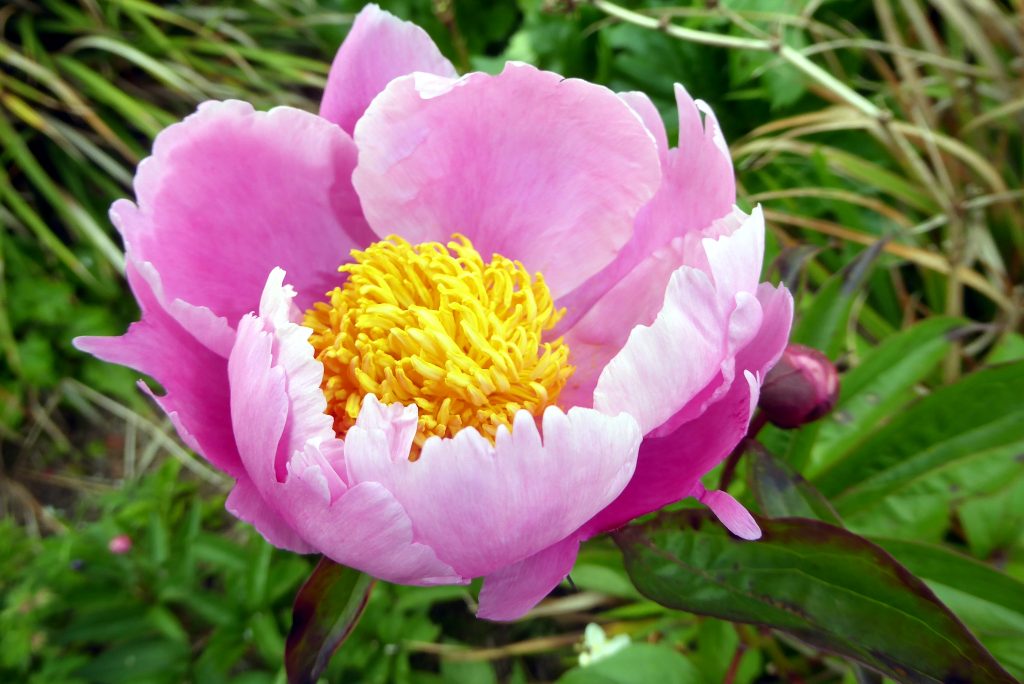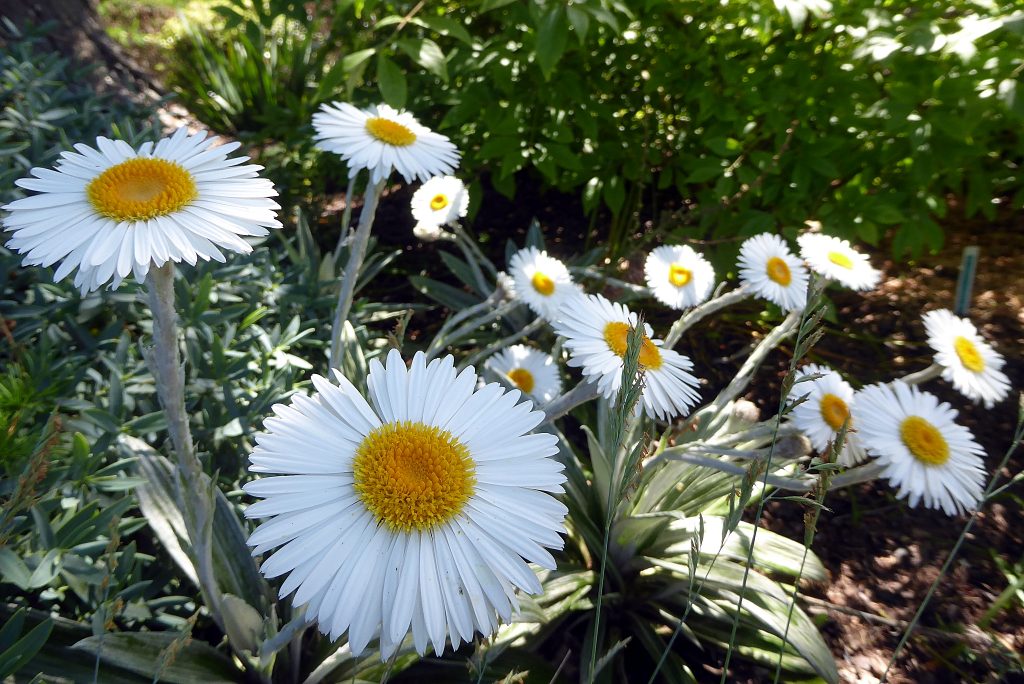 However Kingsbarns might be better known for hosting of the Dunhill Golf Championships at Kingsbarns Golf Links . The golf course begins just behind Kingsbarns's beautiful beach.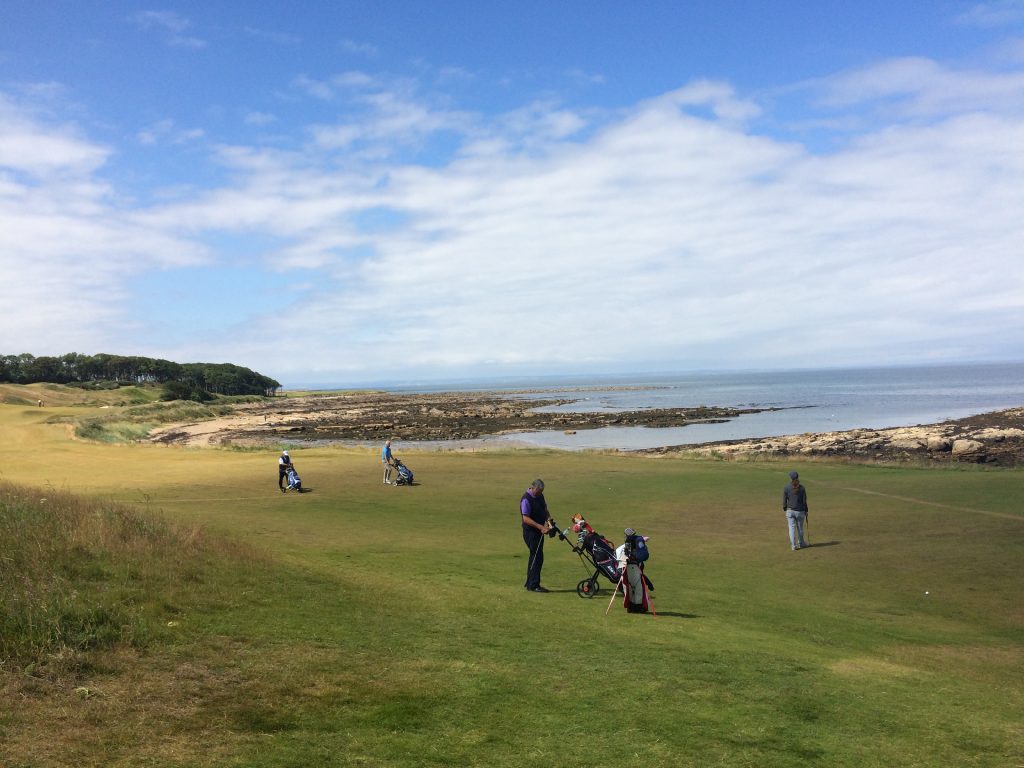 There are also the Inn at Kingsbarns and the cute Simpatica Tearoom. The other attraction is Kingsbarns Distillery, which supplies whisky as well as the rather famous Darnley's Gin.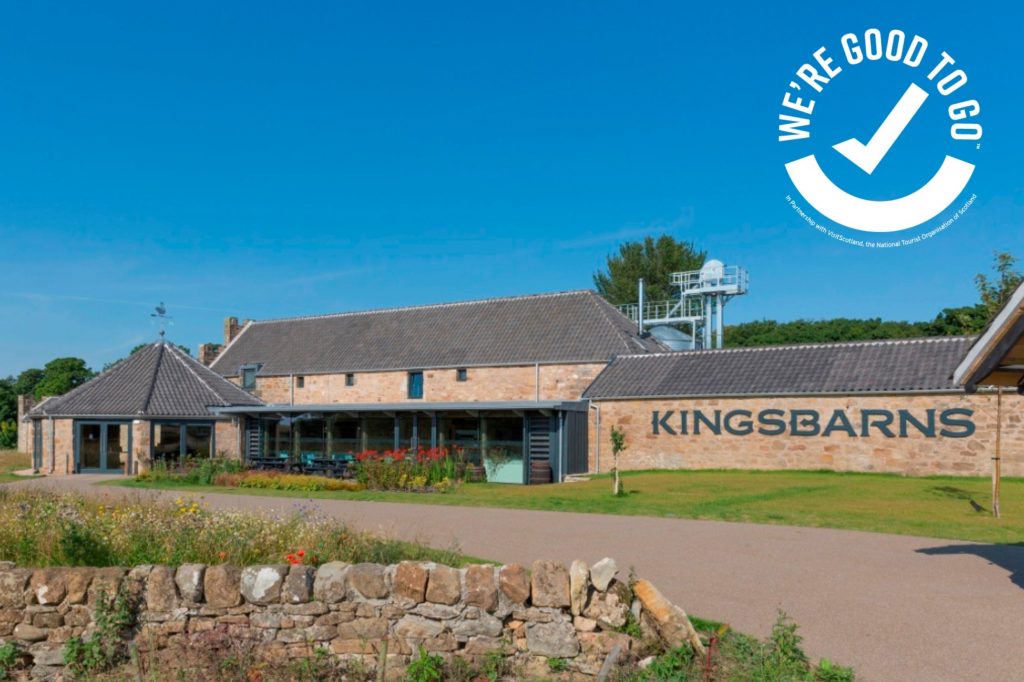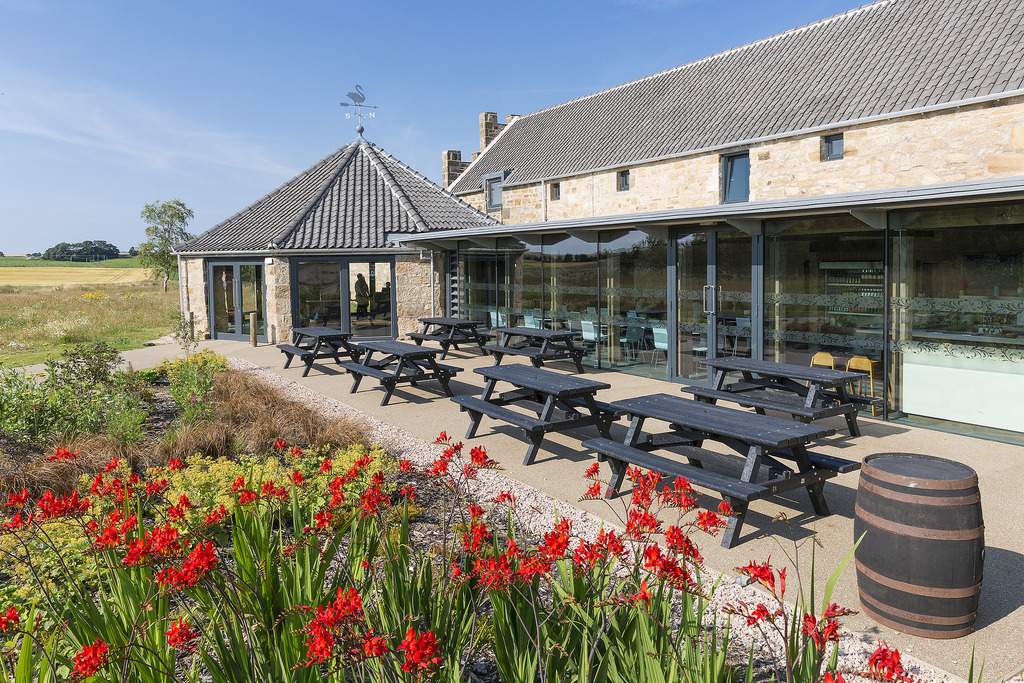 Kingsbarns Distillery & Visitor Centre includes tours, a café and a shop – experience a whisky or gin distillery tour, or simply enjoy lunch or a coffee in the café which includes an outdoor terrace area.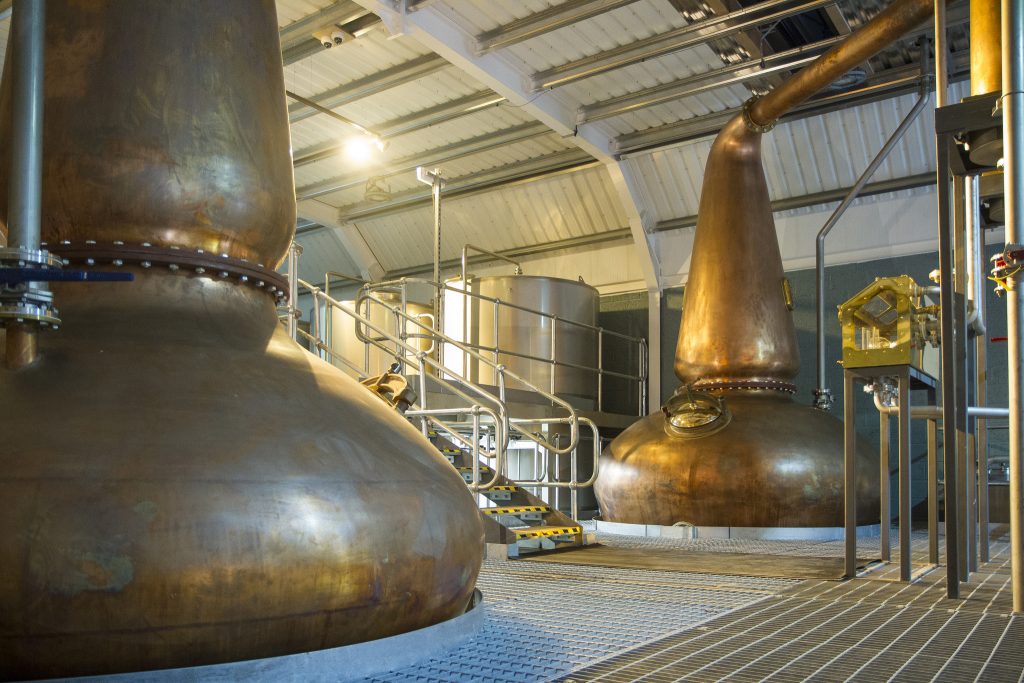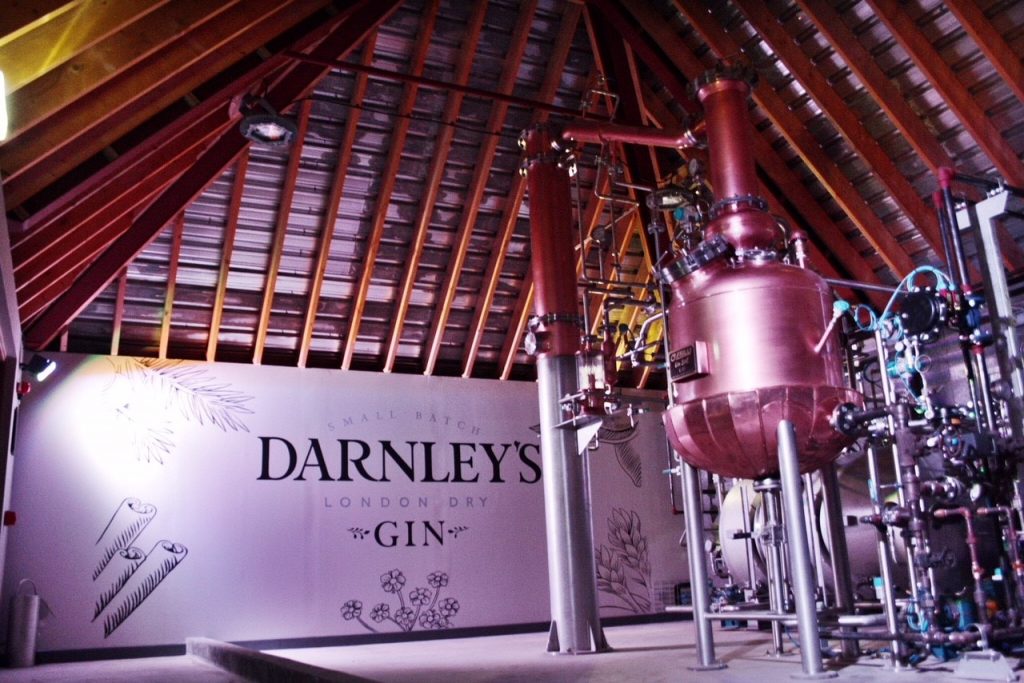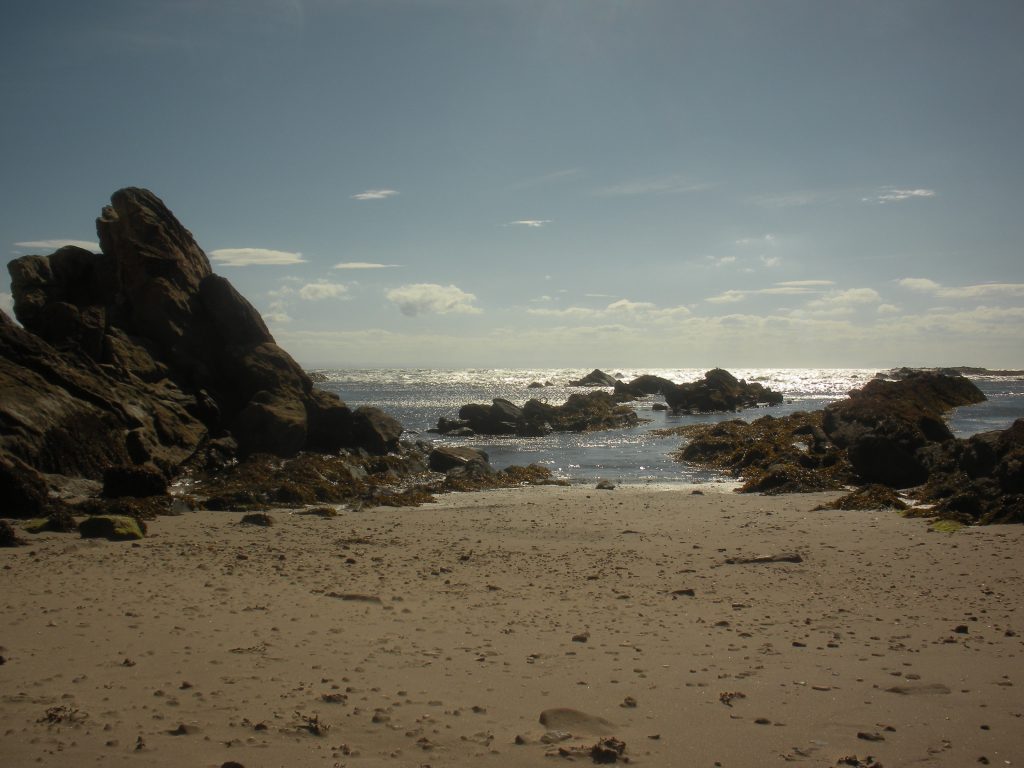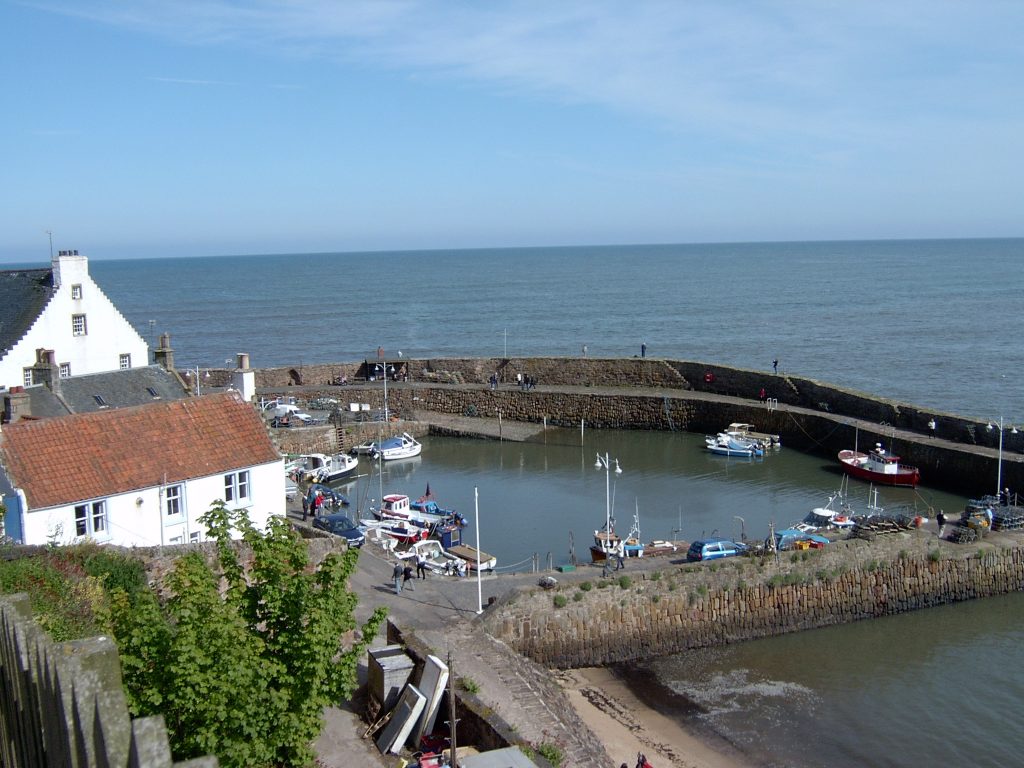 This village is famous for its lobster hut at the wee harbour and if you do not like fish there are amble opportunities for ice cream, cakes, tea and coffee.
Crail also has his own golf course and stock car racing track. If you are more into the arts you will find some stunning shops and not to forget the Crail Pottery and its resident cat (testing the toughness of the products). More shops and places to dine or snack are listed at the bottom of this page (if we have missed anything please get in touch and we will add you).
If you are researching your roots or just enjoy history the Crail Museum is a must and also offers guided walks if you wish to learn more. Of course Crail also has a beach.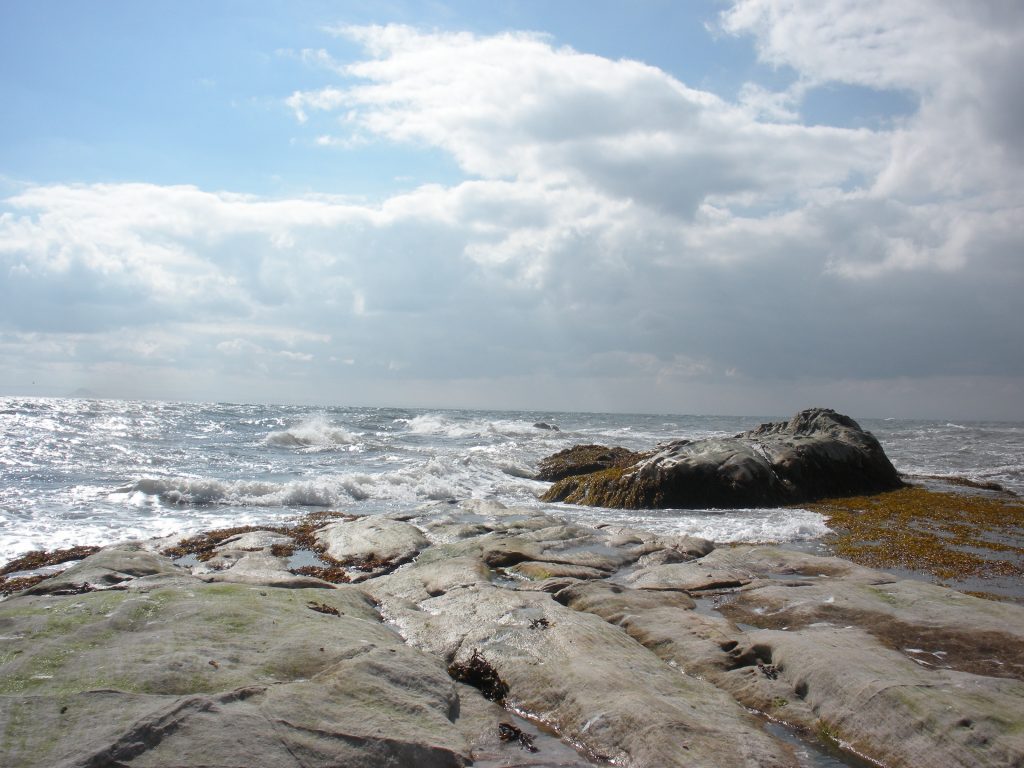 Anstruther is the biggest of the East Neuk villages and is probably best known for its Waid Academy. Besides this it has naturally its own golf course and the award winning Anstruther Fish Bar though there are others. The National Scottish Fisheries Museum is located here but most fish is landed in Pittenweem nowadays. There is plenty of choice for food and drink.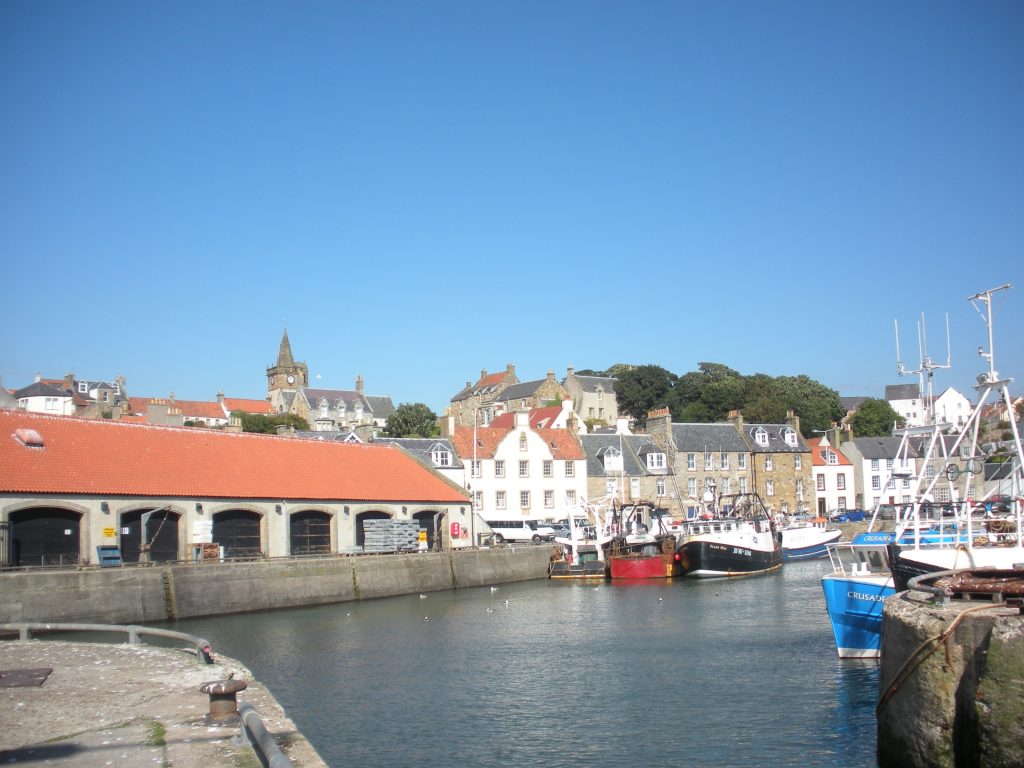 Pittenweem is the biggest harbour in the region and is the main landing place for shell fish. There is an annual international art festival in the first week of August which is amazing fun as most of the artists are hosted by locals in the house or garages.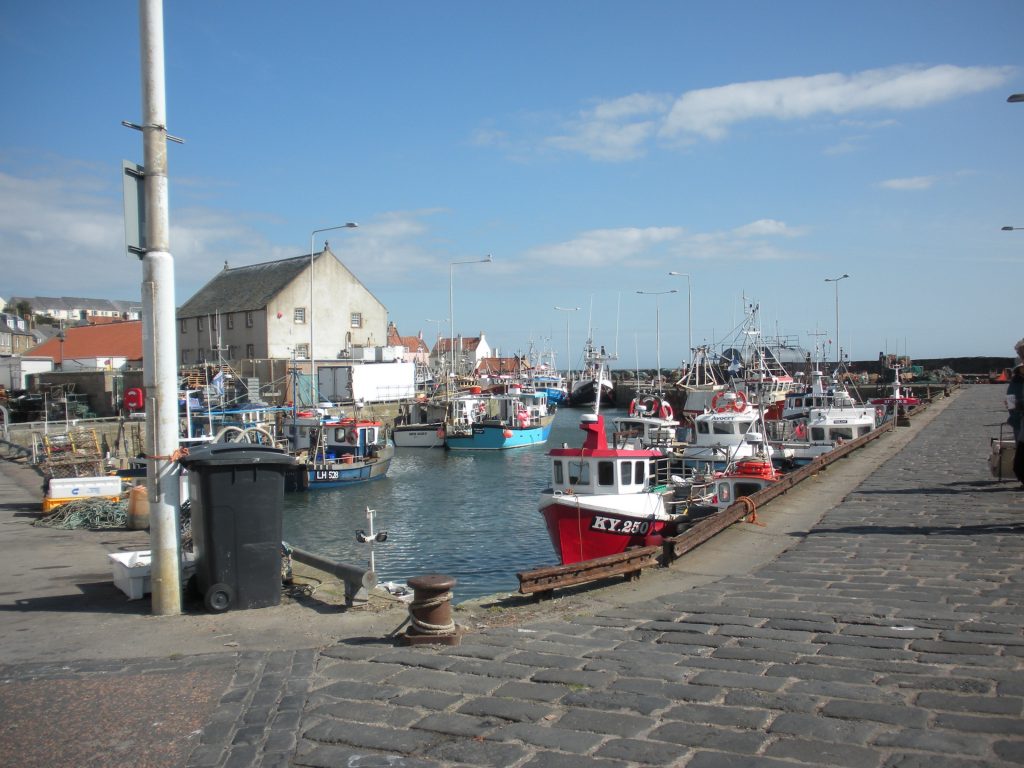 St Fillans cave (which is where Pittenweem gets its name from: place of the cave) can be visited if you ask for the key in the Cocoa Tree. The harbour is beautiful and even has a wee beach too.
Near by (3 miles) is Kellie Castle and gardens a place which King James the I (for England) and VI (for Scotland) has visited on his only visit to Scotland after his coronation.
The Secret Bunker, Scotland's best kept secret for over 40 years, hidden beneath a Scottish Farmhouse, a tunnel leads to Scotland's secret bunker. 24,000 square feet of accommodation on two levels, 100 feet underground – a twilight world of the cold war. Take the opportunity to discover how they would have survived, and you wouldn't.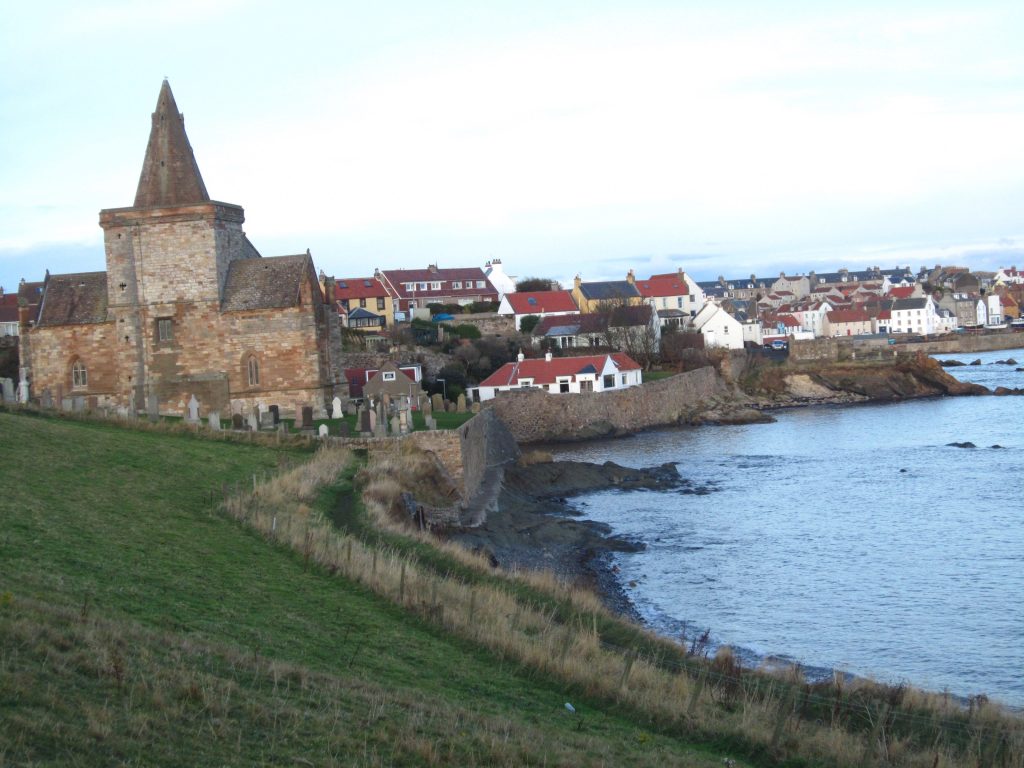 St Monans' Auld Kirk is famous and beautifully situated. There is Newark Castle ruin, a wee wellie garden and the amazing restaurant Craig Millar and if that is not enough visit the East Pier Smokehouse or one of the small delightful Cafes.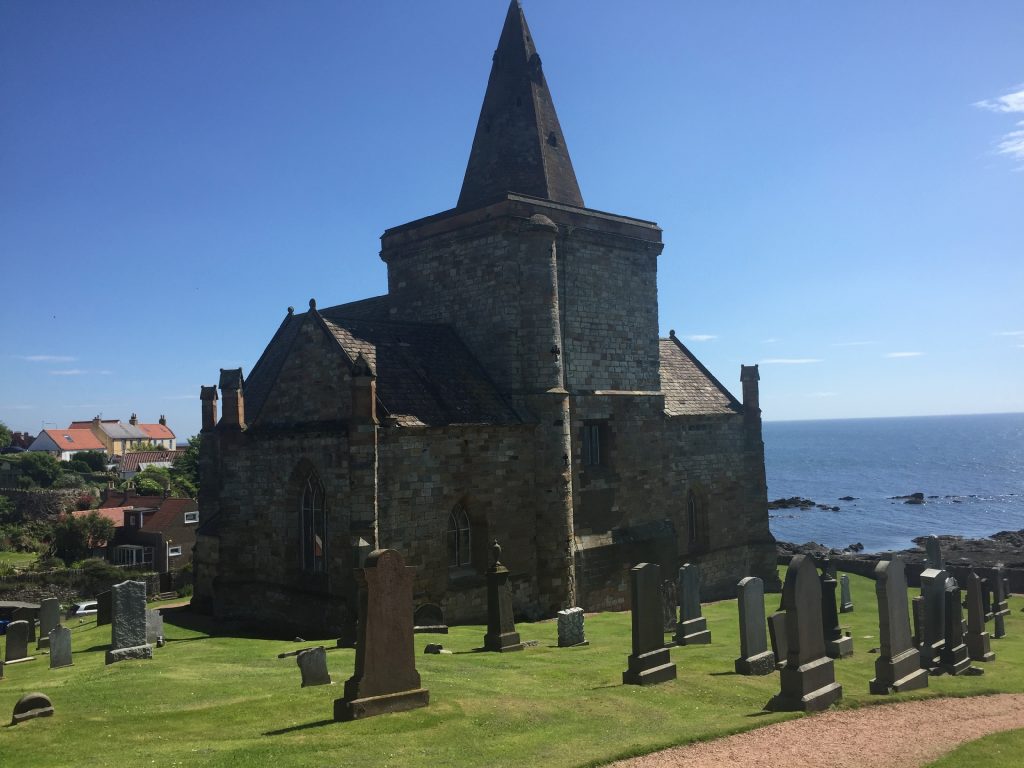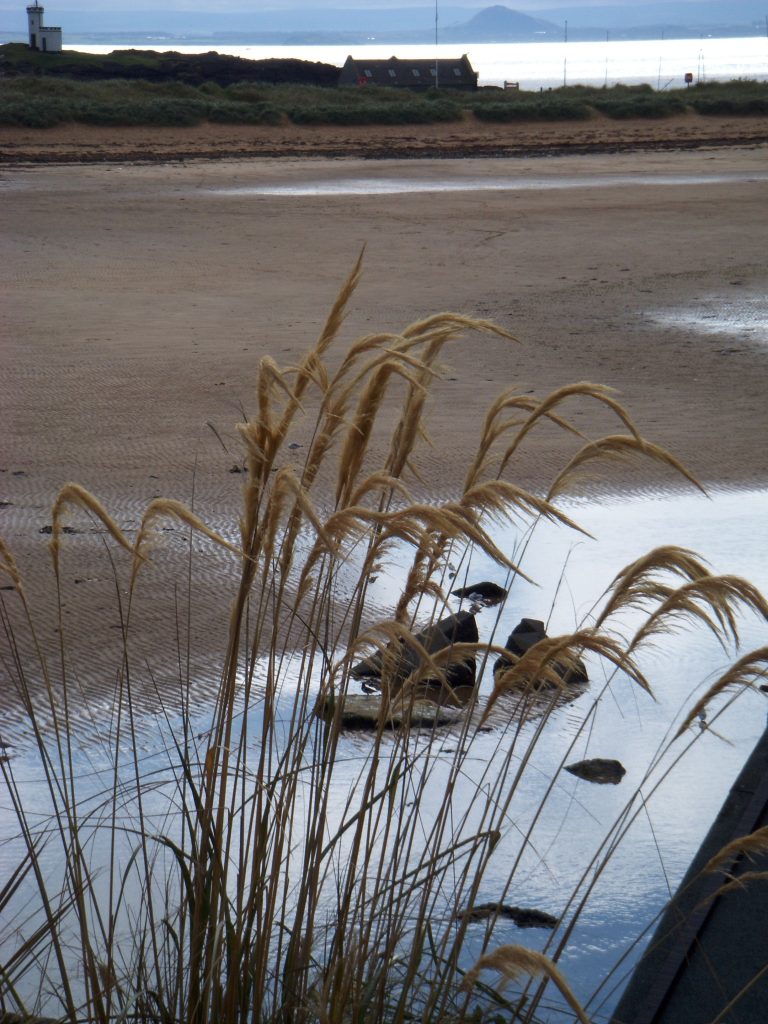 Elie & Earlsferry is another village with yet another amazing golf course but it is also famous for its Water Sport Centre. If you are not the person to jump into the cold water you could venture over to the Ship Inn for a cool beer instead- while watching others in the water. Elie's beach at low tide invites for lengthy beach walks and it is always worthwile to have a wander over to the lighthouse.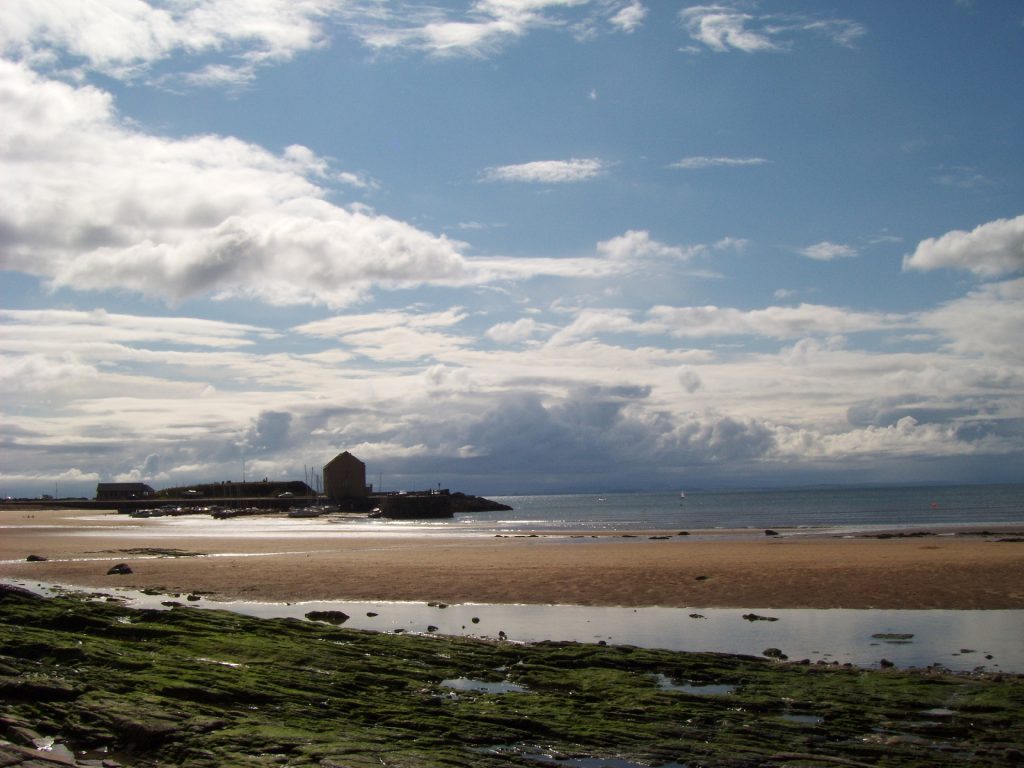 Food & Drink
Simpatica Tearoom, Kingsbarns
The Honeypot, Crail
Nosebag, Crail
Craig Millar, St Monans
East Pier Smokehouse, St Monans
Anstruther Fishbar, Anstruther
Ardross Farm Shop, Elie
Ship Inn, Elie
St Andrews Farmhouse Cheese Company,
Ovenstone 109 Brewery, Ovenstone
Bowhouse, St Monans
The Cellar Restaurant, Anstruther
Walking
Dreel Meadows, Anstruther
Isle of May National Nature Reserve
Crail guided walks
Visiting
Cambo House, Kingsbarns
East Neuk Beach Crafts, Cellerdyke
Kellie Castle & Gardens, Pittenweem
St Fillans Cave, Pittenweem
The National Scottish Fisheries Museum, Anstruther
Crail Museum & Heritage Centre, Crail
Newark Castle, St Monans
Auld Kirk, St Monans
Crail Pottery, Crail
Elie Watersports, Elie
Golf Courses
More Resources: