Today would have been the start of a now cancelled 4-day Highland tour. My clients are from abroad and wisely cancelled their tour in the light of the coronavirus. As a matter of fact for the past weeks all we did was receiving cancellations and refund them where prepayment had been made. Usually at this time of the year we fill our diaries with bookings for the year.
It is not easy to keep up your spirits and of course I am not alone. So is what I did the past two days: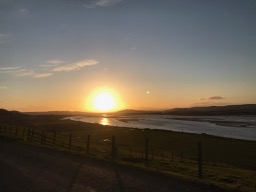 Yesterday I had routine visit of my farrier to trim my horses' feet and in all this madness it was lovely to do something I have pretty much done every six to eight weeks all my life. Since the weather was nice I did ride the horses, seeded some vegetables, attempted to fix my bike and then went to see a dear friend for a lovely dinner. On the way there I managed the above shot.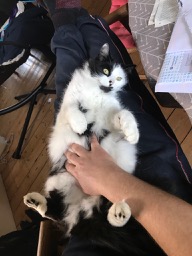 I forgot to add that cuddling the Phantom is part of routine life and truly enhanced now since we are more at home.
Today I started my day with online yoga (yes, at 6.30 am as I was awake in any case). Heart Space or also known as Kilted Yoga closed their studios but maintain livestream online classes which are truly fabulous.
Find out more https://www.heart-space.yoga
Next I ventured out on my homebred horse "Me & My Monkey" to trail around the estate. There was frost on the ground but with the lovely sunshine it turned into a soul-saving retreat. Join me for it in pictures while I am heading out into the sunshine again. Keep sane, eat well and stay healthy!